My Blog
Posts for tag: dentures
By Dental Impressions, PLC
June 19, 2018
For people with edentulism (total loss of teeth), removable dentures is a viable option for regaining both lost function and an attractive appearance. From the moment they begin wearing them, denture wearers can chew food, speak and smile with confidence.
But there are downsides to dentures, especially if they're not cared for properly. Dentures put pressure on the gums and bony ridges of the jaw, which can cause bone to dissolve (resorb) and decrease its volume over time. Without proper maintenance they can also become a breeding ground for bacteria and fungi that not only lead to bad breath but, in cases of partial dentures, can increase the risk of dental disease. They could also contribute to serious systemic diseases.
You can reduce some of these risks by following these 3 important denture maintenance tips. Doing so will help extend the life of your dentures, as well as keep your mouth healthy.
Clean your dentures at least once a day. In addition to taking your dentures out and rinsing them with water after eating, you should also brush them daily with dish detergent, antibacterial soap or denture cleaner — but not toothpaste, which is too abrasive. Effervescent (fizzing) cleaning tablets also aren't a viable substitute for manual brushing in removing disease-causing plaque from denture surfaces.
Take your dentures out at night while you sleep. Wearing dentures 24/7 can hasten bone loss, as well as increase your chances of dental disease or even more serious illnesses. A recent study, for example, found nursing home patients who left their dentures in at night were twice as likely to experience serious complications from pneumonia as those who didn't. While you sleep, store your dentures in water or in a solution of alkaline peroxide made for this purpose.
Brush your gums and tongue every day. Keeping your gum surfaces clean will help reduce the levels of bacteria and other microbes that can cause disease. You can either use an extra-soft tooth brush (not the one you use to clean your dentures) or a damp washcloth.
If you would like more information on caring for dentures, please contact us or schedule an appointment for a consultation.
By Dental Impressions, PLC
February 16, 2018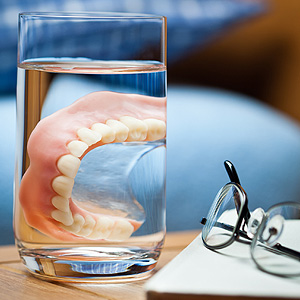 People who've lost all their teeth have benefitted from a solution that's been around for generations: removable dentures. These appliances have helped millions of people chew and eat food, speak, and smile confidently.
But for all their benefits (including affordability) there's still some things you need to do to get the most out of them like cleaning them daily or having us check them regularly for damage and wear. And, there's one thing you shouldn't do: wear them around the clock. Not removing them when you sleep at night can harm your oral health and reduce your dentures' longevity.
Dentures are fitted to rest on the gums and the bony ridges that once held your natural teeth. This exerts pressure on the underlying bone that can cause it to gradually dissolve (resorb). This loss in bone volume eventually loosens your denture's fit. If you're wearing them all the time, the process progresses faster than if you took them out each night.
The under surfaces of dentures are also a prime breeding ground for bacteria and fungi. Besides unpleasant odors and irritation, these microorganisms are also the primary cause for dental disease. Research has found that people who sleep in their dentures have higher occurrences of plaque, a thin film of bacteria and food remnants that cause periodontal (gum) disease. They're also more prone to higher levels of yeast and the protein interleukin-6 in the blood, which can trigger inflammation elsewhere in the body.
To avoid these and other unpleasant outcomes, you should develop a few important habits: remove and rinse your dentures after eating; brush them at least once a day with dish or anti-bacterial soap or a denture cleanser (not toothpaste, which can be too abrasive); and take them out when you sleep and place them in water or an alkaline peroxide-based solution.
Be sure you also brush your gums and tongue with an extra soft toothbrush (not your denture brush) or wipe them with a clean, damp washcloth. This will help reduce the level of bacteria in the mouth.
Taking these steps, especially removing dentures while you sleep, will greatly enhance your well-being. Your dentures will last longer and your mouth will be healthier.
If you would like more information on denture care and maintenance, please contact us or schedule an appointment for a consultation.
By Dental Impressions, PLC
July 12, 2017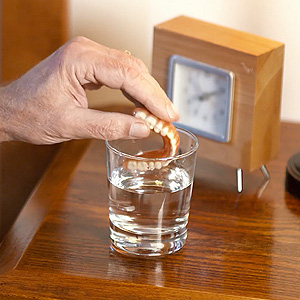 Dentures can be an effective and affordable solution for people who've lost all their teeth. With them a person can once again eat nutritiously, speak clearly and smile confidently — and with regular care they can last for years.
As part of that ongoing care, be sure you consider one important thing with your dentures: you may want to take them out at night while you sleep. If you do you'll lessen your chances of developing these 4 health problems.
Accelerated bone loss. Traditional dentures are fitted to rest securely on the gums. This, however, creates pressure on the gums and the bony ridges beneath them that can contribute to bone loss. Wearing dentures around the clock usually accelerates this process, which could eventually lead to among other problems looser denture fit and discomfort.
Bacterial and fungal growth. Microorganisms that cause oral diseases find conducive breeding spots on the underside of dentures while they're worn in the mouth. Studies have found that people who continuously wear their dentures are more likely to have bacterial plaque and oral yeast than those that don't.
Potentially dangerous infections. Bacterial and fungal growth increases your risk of oral infections that could affect more than your mouth. A recent study of elderly nursing home residents found those who wore their dentures during sleep were over twice as likely to develop serious cases of pneumonia requiring hospitalization. It's believed bacteria harbored on the dentures can pass from the mouth to the lungs as a person breathes over them while they sleep.
Blocked salivary flow. During the night our salivary flow naturally ebbs; wearing dentures while we sleep could cause denture stomatitis, in which the tissues covered by a denture (particularly along the roof of the mouth) become inflamed and infected with yeast. It's often accompanied by angular cheilitis or cracking at the corners of the mouth that becomes infected by the same yeast.
Wearing your dentures while you sleep contributes to conditions ranging from irritating to life-threatening. To prevent such problems clean your dentures as well as the rest of your mouth regularly — and talk to your dentist whether you should leave them out when you go to bed.
If you would like more information on denture care, please contact us or schedule an appointment for a consultation. You can also learn more about this topic by reading the Dear Doctor magazine article "Sleeping in Dentures."